As already written on facebook which today for sure is the quickest way to post and share happenings we finally want to catch up here as well with a very very sad and shocking news.
November 18th, 2013 became a very dark chapter not only for GammaRay but for the music and metal scene of Hamburg as well. The well know "Hammer Studios" ran by Dirk Schlächter, Kai Hansen of Gamma Ray and their friend Eike O. Freese (Dark Age) have totally been destroyed by a huge fire.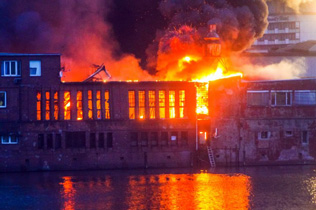 Official press release:
"It is a dark time for the music scene in Hamburg, Germany: On Monday, November 18th 2013, the legendary Hamburg-based 'Hammer Studios', ran by Kai Hansen & Dirk Schlächter of Gamma Ray and Eike Freese (Dark Age), burnt down in a mass fire.