GammaRay's "Hammer Studios" totally destroyed by a huge fire
As already written on facebook which today for sure is the quickest way to post and share happenings we finally want to catch up here as well with a very very sad and shocking news.
November 18th, 2013 became a very dark chapter not only for GammaRay but for the music and metal scene of Hamburg as well. The well know "Hammer Studios" ran by Dirk Schlächter, Kai Hansen of Gamma Ray and their friend Eike O. Freese (Dark Age) have totally been destroyed by a huge fire.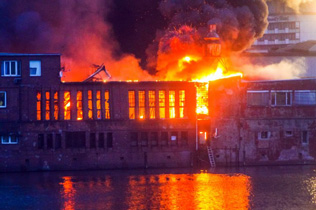 Official press release:
"It is a dark time for the music scene in Hamburg, Germany: On Monday, November 18th 2013, the legendary Hamburg-based 'Hammer Studios', ran by Kai Hansen & Dirk Schlächter of Gamma Ray and Eike Freese (Dark Age), burnt down in a mass fire.
The recording studio, several practice rooms of Hamburg-based bands and a visual artist studio were completely destroyed. The damages are immense and according to initial estimates more than in a few hundred thousands. Together with the Hamburg Cultural Foundation an official donation account for the involved artists, who have lost their rehearsal rooms, studios & full equipment in the fire, has now been established.

For reasons yet unknown, on Monday, 18/11/2013 a warehouse complex in Hamburg went up in flames. Affected by the fire including the prestigious 'Hammer Studios' are several rehearsal rooms of local bands such as Brothers In Arms, A Million Miles, Chain Reaction, Black Hawk, Sambódromo, Kamizaraky, The Golden Creek or Cate 's Leila.

Valuable musical instruments, all guitar collections, amplifiers, and studio facilities were destroyed in the mass fire. Most of the bands are uninsured or underinsured and now fear for their existence."
The Rays had just left for their South American part of the recent "Hellish Rock Pt. II" tour the day before when they had to be informed of that tragedy. Gladly though nobody was hurt in this huge fire. The first feedback that directly came from Kai was:
"Hi everybody, thanks for your concern, we are ok, already on Tour in South America, the Studio is probably gone, we'll know more whenever the Firemen have everything under control. Here's the ironic part: we're at the Waterfront of a lake and the upcoming Deep Purple Live recordings have just been mixed at our place. Remember Smoke On The Water..."

Kai Hansen - via mobile 21:25h, 18th Nov. 2013
Eike and GammaRay as well are very impressed by the immens support and positive words they got from the very first moment Eike has posted that he could just about leave the burning complex at Hammer Deich 70 in Hamburg Hamm.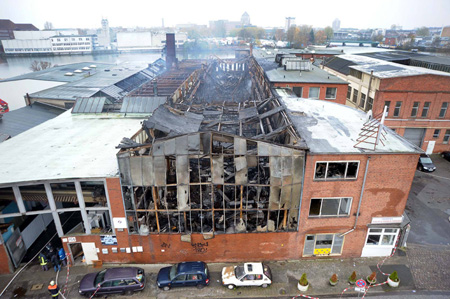 The building the next day after a marathon of fighting against the fire.
GammaRay continued their South American tour and will only be able to check about the situation themselves in December. For the moment it is still far too early to make any statements of the influence of the fire for the ongoing recordings of the upcoming album of GammaRay that used to take place in the rooms in the "Hammer Studios" as these are now history.
For further information you can check the facebook page "Help 4 Hammer Studios" which has been opened just like a facebook-group to co-ordinate all help that comes up.