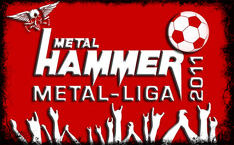 Gamma Ray takes part in the "
Metal Liga
" by German
Metal Hammer
Magazine.
Musicians, the Metal Hammer Crew and the some fans will tip the whole German Bundesliga 2011 starting in August 2008. Each date one musician will participate and give his voting on each of the games.
You should be quick as there will only be 298 fans part of it. More infos can be found (in German language) on the Metal Hammer Website. Join them or just enjoy the interviews done with the musicians related to the tips.