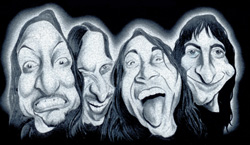 The Rays have just returned from their "Skeletons & Majesties Mini Tour" that took place in Germany and Switzerland.
The kick off had been on Easter Monday. The Rays had their first show with the totally new set in Bremen.
Going along with the latest release of Gamma Ray ("
Skeletons & Majesties
" EP) the band has spiced up seldom played songs the fans could vote for during the last months. So the Rays came up with an awesome collection of songs represented in two completely different styles - acoustic and with full metal gear.
GAMMA RAY WANTS YOU!
y e s , w e  w a n t  y o u . . . t o  s i n g ! ! !

Therefore we have included the Karaoke version of "Rebellion In Dreamland" on "Skeletons & Majesties" EP. Record YOUR vocals for the song with any means you have (tape deck, camera in your living room, amateur or pro equipment). The sound doesn't matter, all that counts is the performance! Send it to us with the reference "Gamma Ray Karaoke" together with a photo and a BIT of info about yourself (photos only if you want):
25.04.2011 - Bremen / Tivoli (*)




  26.04.2011 - Berlin / Halford (*)




  28.04.2011 - Bochum / Zeche (*)




29.04.2011 - Pratteln / Z7 (**)






exclusive live DVD + CD shooting in
Bochum & Pratteln





Dear friends again!
Thanks a lot for all your registrations to our website and thanks as well for all votes that have been done so far. It is very interesting to get to know about your favorite songs to be played on the forthcoming tour. Some of you might have experienced some problems with their voting, because we have almost twice as much registrations for the website as incoming votes of you. Please be sure that your vote has been sent out.
How to vote:
You need to register first for an account, then the "Skeletons Poll" will appear in your personal user menu. Chose your 10 favorite songs for the setlist of the forthcoming tour. Then send / submit your vote and THANKS should appear. If it doesn't, their might have been a problem submitting your vote. You may check it if you reload the polls page. Check the forum for screenshots how it should look like. And feel free to contact us if there are still any problems.
Vote until 31st March 2011!!!
Thanks a lot and see you on tour!
Harald (Webmaster) & Gamma Ray