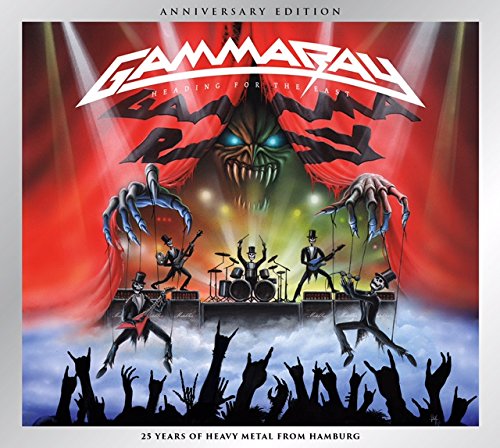 "Heading For The East" (Anniversary Edition) will be released on September 25th, 2015 on earMUSIC.

25 years of Gamma Ray – 25 years of heavy metal from Hamburg: what started out in spring 1990 with the release of their debut album Heading For Tomorrow has achieved international fame a quarter of a century later. Tours around the globe with sold-out shows in the US, Canada, South America, Asia and the whole of Europe plus appearances at the most renowned festivals worldwide – vocalist/guitarist Kai Hansen's band has long taken the world by storm. Their success is based on more than two dozen recordings, among them eleven studio albums, a number of live releases, DVDs, EPs and singles, which have earned Gamma Ray high chart positions on a regular basis. So it comes as no surprise that the group's ever-growing fan base turns out in hordes wherever they play. And of course the top 15 position of their current release "Empire Of The Undead" and an album-of-the-month nomination in Metal Hammer and Rock Hard magazines prove unmistakably: Gamma Ray continue to be on the top rung!

In view of this impressive stocktaking on the occasion of their anniversary, there's a special reason to rejoice for their international fan community: the band's full back catalogue will be rereleased over the course of a year. All albums will be available as premium-quality digipaks including newly designed cover artwork. To cut a long story short: Gamma Ray are celebrating their anniversary in style, and all their fans are invited!

Following a thoroughly promising career start, their debut Heading For Tomorrow having caused an international stir and netted phenomenal sales figures in February 1990, Gamma Ray embarked on a major tour only a few months after the album release.
As Heading For Tomorrow turned into a commercial success particularly in Asia, Gamma Ray were still on their European tour when they received invitations to Japan: a total of four shows in Tokyo, Nagoya and Osaka. This offer inspired their record company to have producer Steve Payne accompany the band members and their crew to the Land of the Rising Sun to record the two shows in Tokyo for a live DVD (back then, sound and image storage media were still called VHS cassettes).