GAMMA RAY ANNOUNCE 25th ANNIVERSARY REISSUE OF "ALIVE '95"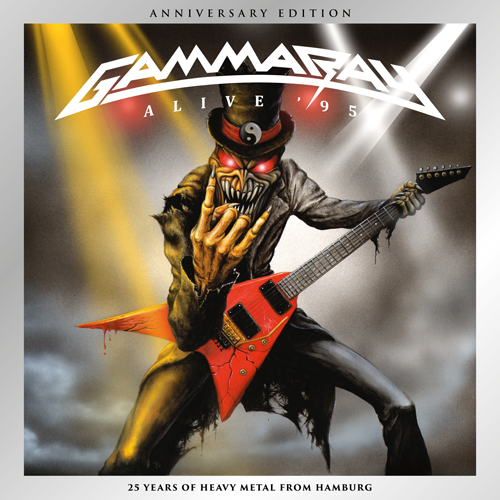 "Alive '95" (Anniversary Edition) will be released on September 29th, 2017 on earMUSIC.
25 years of Gamma Ray – 25 years of heavy metal from Hamburg: what started out in spring 1990 with the release of their debut album "Heading For Tomorrow" has achieved international fame a quarter of a century later. Tours around the globe with sold-out shows in the US, Canada, South America, Asia and the whole of Europe plus appearances at the most renowned festivals worldwide – vocalist/guitarist Kai Hansen's band has long taken the world by storm.
In view of this impressive stocktaking on the occasion of their anniversary, there's a special reason to rejoice for their international fan community: the band's full back catalogue will be rereleased over the course of these years. All albums will be available as premium-quality digipaks including newly designed cover artwork.

To cut a long story short: Gamma Ray are continuing celebrating their anniversary in style, and all their fans are invited!
"Alive '95" was the first live album by GammaRay. It was released on May 1996, following the live concerts in Milano, Paris, Madrid, Pamplona and Erlangen, during the band's "Men on a Tour" European tour. This 2CD premium-quality digipak includes such classics as "Man on a Mission" and "Rebellion in Dreamland" as well as two classic Helloween tracks composed by Kai Hansen himself. The 2017 anniversary re-release of Alive '95 contains a bonus CD including material recorded with Ralf Scheepers in 1993 who provides an impressive evidence of his insane vocal range on tracks like "Future Madhouse","Insanity and Genius" and "Heading for Tomorrow".
CD1
Recorded in Milano, Paris, Madrid, Pamplona and Erlangen. Remastered in 2017 by Eike Freese.
1. Land Of The Free
2. Man On A Mission
3. Rebellion In Dreamland
4. Space Eater
5. Fairytale
6. Tribute To The Past
7. Heal Me
8. The Saviour
9. Abyss Of The Void
10. Ride The Sky (Helloween cover)
11. Future World (Helloween cover)
12. Heavy Metal Mania (Holocaust Cover)
13. Lust for Life (Non-European Bonus)
CD2
Recorded live in 1993 with Ralf Scheepers on vocals. Originally released as part of the US version - for the first time available in the rest of the world. Remastered in 2017 by Eike Freese.
1. No Return
2. Changes
3. Insanity And Genius
4. Last Before The Storm
5. Future Madhouse
6. Heading For Tomorrow