GAMMA RAY ANNOUNCE 25th ANNIVERSARY REISSUE OF "LAND OF THE FREE"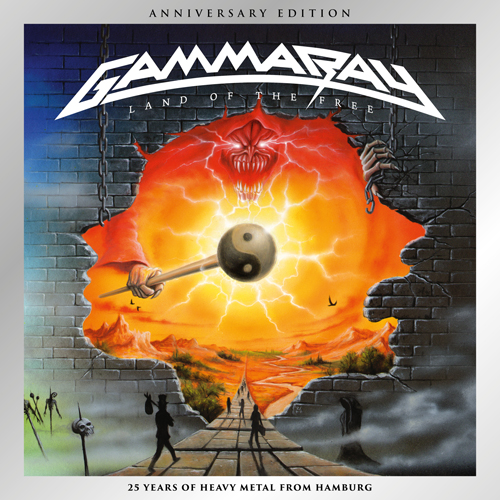 "Land Of The Free" (Anniversary Edition) will be released on September 29th, 2017 on earMUSIC.
25 years of Gamma Ray – 25 years of heavy metal from Hamburg: what started out in spring 1990 with the release of their debut album "Heading For Tomorrow" has achieved international fame a quarter of a century later. Tours around the globe with sold-out shows in the US, Canada, South America, Asia and the whole of Europe plus appearances at the most renowned festivals worldwide – vocalist/guitarist Kai Hansen's band has long taken the world by storm.
In view of this impressive stocktaking on the occasion of their anniversary, there's a special reason to rejoice for their international fan community: the band's full back catalogue will be rereleased over the course of these years. All albums will be available as premium-quality digipaks including newly designed cover artwork.

To cut a long story short: Gamma Ray are continuing celebrating their anniversary in style, and all their fans are invited!
"Land Of The Free" was the fourth studio album of GammaRay released in 1995 and the first one on which Kai Hansen took over the lead vocals. His unique powerful voice along with the atmosphere of hope and optimism and these fast and furious speeding riffs made sure to attract attention. This reissue comes in a high quality digipak and fan rarities on the bonus CD.
CD1
The original studio album. Remastered in 2017 by Eike Freese.
1. Rebellion In Dreamland
2. Man On A Mission
3. Fairytale
4. All Of The Damned
5. Rising Of The Damned
6. Gods Of Deliverance
7. Farewell
8. Salvation's Calling
9. Land Of The Free
10. The Saviour
11. Abyss Of The Void
12. Time To Break Free
13. Afterlife
CD2
Including previously unreleased instrumentals, live in studio recordings, pre-production versions…
1. Heavy Metal Mania (Holocaust Cover)
2. As Time Goes By (Pre-Production Version)
3. The Silence '95
4. Dream Healer (Instrumental – Live At Chameleon Studios 2017)
5. Tribute To The Past (Instrumental – Live At Chameleon Studios 2017)
6. Heaven Can Wait (Instrumental – Live At Chameleon Studios 2016)
7. Valley Of The King (Instrumental – Live At Chameleon Studios 2016)