GAMMA RAY ANNOUNCE 25th ANNIVERSARY 2CD REISSUE OF THE DEBUT ALBUM "HEADING FOR TOMORROW"
It was with great surprise that in 1988 Kai Hansen decided to leave Helloween: the band he co-founded and that in a very few years reached a very high level of success, ending up influencing and challenging the bands that were once their original inspiration.
Hansen left Helloween just when the band had finally reached international stardom and after having won the appreciation of metal giants such as Iron Maiden who often publicly championed the German band. Hansen, Gamma Ray and Helloween are now very good friends, often sharing the stage, but in 1987 the divorce was a proper rock and roll acrimonious one: a true shock for the metal scene. The reasons that brought Kai Hansen to leave the band are still the subject of interviews and fan debates, despite listening to the forthcoming reissue of "Heading For Tomorrow", 25 years after its original release, it looks very obvious that Kai Hansen destiny was to lead his own band.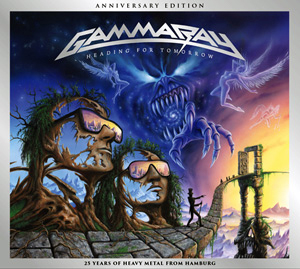 "Heading For Tomorrow" (Anniversary Edition) will be released on July 24th, 2015 on earMUSIC.
25 years after the official debut, Gamma Ray and earMUSIC have started a monumental work to re-release the entire production by Gamma Ray in deluxe double CDs.
The original albums will be re-presented in new shining, remastered version on the first disc (with the inclusions of all B-sides) while the second CD will be dedicated to old live recordings, demos digitalised for the first time from the original tapes saved by all members of the band, alternative versions and recent studio and live recordings.
"Heading For Tomorrow" was initially released as a Kai Hansen solo album. By extracting the LP out of its sleeve, "Heading For Tomorrow" revealed its "secret intention" (it was still the days of LP, or is it again?) revealing a second cover, introducing Kai's new baby: GAMMA RAY.
After the global critical success of "Empire Of The Undead", Kai Hansen has decided to continue the collaboration with Eike Freese and Alex Dietz (Heaven Shall Burn), the production team. Kai Hansen has spent hundred hours, digitalising and remastering hundreds of tapes, alternative versions and ideas that were so far jealously hidden in Gamma Ray's private archive.
Adds Hansen: "I am incredibly thankful that after 25 fantastic years of Gamma Ray, I am still standing here, making music and performing on stage. It's awesome to see that fans from the first days keep on supporting us and that we still make new friends. It's something you can't take for granted. After my departure from Helloween, it all could have gone the other way as well. Instead, we continue to make albums and tour the world. That's close to unbelievable!
Working on the first reissue for 'Heading For Tomorrow' brought back so many great memories and Ralf and I dug out some funny stories.
Two years ago, our studio, our harbour in Hamburg, burnt down and a lot of memorabilia and original tapes were lost, but we all searched our private archives and managed to find some great rarities and hopefully some highlights for the fans. We are proud to release our little babies in a new style with a brand new cover artwork done by Hervé Monjeaud and a new sound, a fantastic remastering done by Eike Freese and Alex Dietz."
Kai Hansen is today the voice of Gamma Ray but it is important to remember that in the beginning of Gamma Ray's history Kai had planned to focus on his role of songwriter and guitar player. If the original album still shines also thanks to the vocals of Ralf Scheepers, the second CD offers real treasures for all Gamma Ray fans, like the original demos of songs like "Money", "Sail on", "Heaven Can Wait" or "The Silence" featuring Hansen on vocals.
To celebrate their 25th anniversary in style, Gamma Ray is touring in Europe this autumn.
CD1
1. Welcome
2. Lust For Life
3. Heaven Can Wait
4. Space Eater
5. Money
6. The Silence
7. Hold Your Ground
8. Free Time
9. Heading For Tomorrow
10. Look At Yourself
11. Mr. Outlaw (Japanese Bonus Track)
12. Sail On (B-Side from "Heaven Can Wait" EP)
13. Lonesome Stranger (B-Side from "Heaven Can Wait" EP)
CD2
1. Who Do You Think You Are
2. Heaven Can Wait (Demo)
3. Money (Demo - Kai on vocals)
4. Sail on (Demo - Kai on vocals)
5. Heading For Tomorrow (Live)
6. Space Eater (Live)
7. The Silence (Demo - Kai on vocals)
8. Mr. Outlaw (Instrumental Version)
9. Heaven Can Wait (Demo - Kai on vocals)
10. Heading For Tomorrow (Karaoke Version)
11. Space Eater (Karaoke Version)
12. Lonesome Stranger (Demo)
BEST OF THE BEST - PARTY TOUR 2015
with special guest Serious Black
28.10. Wilhelsmhaven – Pumpwerk (GER)
30.10. Hamburg – Markthalle (GER)
31.10. Berlin – C-Club (GER)
01.11. Bochum – Zeche (GER)
03.11. München – Backstage Werk (GER)
07.11. Lucenec – Sports Hall (SK)
08.11. Budapest – Club 202 (HUN)
10.11. Graz – Explosiv (CH)
11.11. Milano - special guest to Scorpions - Mediolanum Forum (ESP)
13.11. Pamplona – Totem (ESP)
14.11. Santiago de Compostela – Capitol
15.11. Porto – Hard Club (PT)
17.11. Lissabon – Paradis Garaje (PT)
18.11. Sevilla – Custom (ESP)
20.11. Murcia – Gamma (ESP)
21.11. Madrid – San Miguel (ESP)
22.11. Barcelona – Razz 1 (ESP)
24.11. Lyon – Ninkasi Kao (FR)
25.11. Pratteln – Z7 (CH)
27.11. Memmingen – Kaminwerk (GER)
04.12. Aschaffenburg – Colos-Saal (GER)
05.12. Paris – Trabendo (FR)
06.12. Vosselaar – Biebob (BEL)
08.12. London – Islington (UK)
09.12. Tilburg – 013 (NL)
11.12. Gothenburg – Musikens Hus (SWE)
12.12. Stockholm – Klubben (SWE)
www.gammaray.org
www.ear-music.net
www.youtube.com/earMUSICofficial
www.facebook.com/earMUSICofficial
www.twitter.com/earMUSICedel