"BLAST FROM THE PAST" AVAILABLE WORLDWIDE AS A LIMITED EDITION TRIPLE CD, DIGITALLY AND – FOR THE VERY FIRST TIME – VINYL LP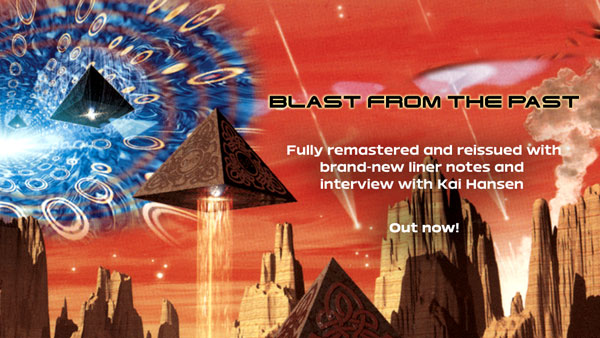 The only thing I knew was that I wanted to go on making music and fulfil my vision of the songs I had," says Kai Hansen about forming GAMMA RAY after leaving Helloween in 1988 – a vision that paid off.
For over 30 years and with a total of eleven studio albums, the Hamburg-based power metal band built around bandleader Kai Hansen has influenced and shaped the genre. The expressiveness of their music is also reflected in their energetic live shows, which was impressively captured on their long player "30 Years Live Anniversary" (2021).
With "Blast From The Past", the German power metal icons GAMMA RAY return to their beginnings and revisit their first 10 years. The album with Kai Hansen on vocals is a cross-section of their studio albums released between 1990 and 1999.
"We said [to our fans]: 'Choose three songs from each album'", remembers Kai Hansen and the results formed "Blast From The Past", originally released in 2000 and long out of print.
All songs have been remastered by producer Eike Freese for this reissue edition and it includes extensive linernotes by UK journalist Dave Everley (Kerrang!, Louder, Prog, Metal Hammer, amongst others). Based on an interview conducted with Kai Hansen, they provide an insight into the making of the album and the band's history over the first 10 years.
Today, "Blast From The Past" with its iconic album cover by Derek Riggs (Iron Maiden) is finally available again. Along with the Limited 3CD Digipak Edition (including the rare "Skeletons & Majesties" mini-album as a bonus), the album is released digitally and for the first time ever on Vinyl LP.
In 20 powerful songs GAMMA RAY's Kai Hansen (lead vocals, guitar), Dirk Schlächter (bass), Henjo Richter (guitar) and Daniel Zimmermann (drums) underscore once again their status as one of the most important power metal bands of the last three decades.
Pre-order the album here: https://gammaray.lnk.to/BFTP