Kai Hansen on German TV News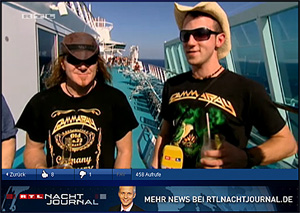 "70.000 Tons Of Metal: GAMMA RAY  has returned!
Almost a kind of holiday feeling although not too much time to relax, no valuable internet onboard, but a cool event and an action-packed North American tour afterwards. A very satisfied band, Gamma Ray, just returned from America and will soon provide you with more news on current activities of the band, new releases, a new tour and more...
Last night

Kai Hansen appeared on a German TV news magazine (RTL Television), called "RTL Nachtjournal" during a report of the "70.000 Tons Of Metal" cruise.
Check: RTL Nachtjournal from the 12.02.2011 (starting @ 22:15 min): RTL-NOW (RTL Nachtjournal). Enjoy! (
Link has already expired and is no longer available at RTL
)