Gamma Ray will come to "Masters of Rock" in July 2019!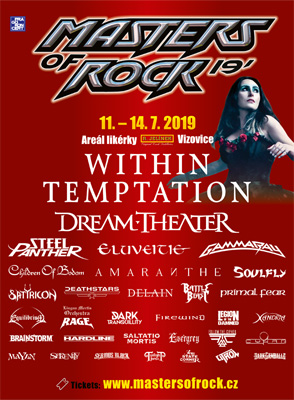 Don't miss Gamma Ray's show, it will be spectacularly great!
We are happy to announce, that once again Gamma Ray will rock the stage of Masters of Rock in Vizovice, Czech Republic.
Last time Gamma Ray played at Masters of Rock was in 2015 - so everybody is really looking forward to coming back and to celebrating with the fans in July 2019!
Festival info: "The 17th year of one of the biggest music events in the Czech Republic, the international open-air festival "Masters of Rock", will take place from
Thursday 11th to Sunday 14th July 2019
in the beloved area of the R. Jelinek distillery in Vizovice.
Among the confirmed performers are:
WITHIN TEMPTATION, DREAM THEATER, STEEL PANTHER, ELUVETIE, GAMMA RAY, CHILDREN OF BODOM, AMARANTHE, SOULFLY, SATYRICON, DEATHSTARS, DELAIN, BATTLE BEAST, PRIMAL FEAR, EQUILIBRIUM, RAGE AND LINGUA MORTIZ ORCHESTRA, DARK TRANQUILLITY, FIREWIND, LEGION OF DAMNED, XANDRIA, BRAINSTORM, HARDLINE, SALTATIO MORTIS, EVERGREY, FOLLOW THE CIPHER, CYHRA, MAYAN, SERENITY, SERIOUS BLACK, TWILIGHT FORCE, TRI STATE CORNER, CITRON, DARK GAMBALLE and others…"