GAMMA RAY ANNOUNCE 25th ANNIVERSARY REISSUE OF "LUST FOR LIVE"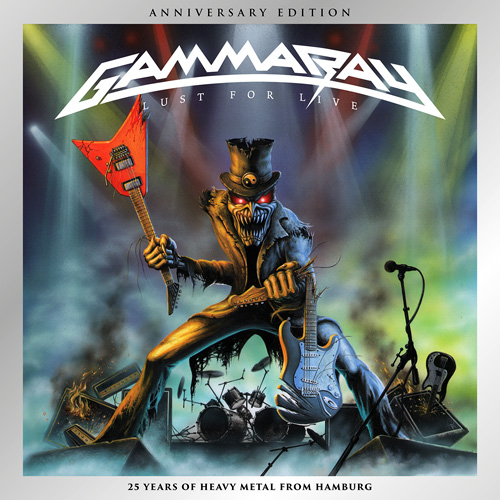 "Lust For Live" (Anniversary Edition) will be released on May 06th, 2016 on earMUSIC.
25 years of Gamma Ray – 25 years of heavy metal from Hamburg: what started out in spring 1990 with the release of their debut album "Heading For Tomorrow" has achieved international fame a quarter of a century later. Tours around the globe with sold-out shows in the US, Canada, South America, Asia and the whole of Europe plus appearances at the most renowned festivals worldwide – vocalist/guitarist Kai Hansen's band has long taken the world by storm.
In view of this impressive stocktaking on the occasion of their anniversary, there's a special reason to rejoice for their international fan community: the band's full back catalogue will be rereleased over the course of a year. All albums will be available as premium-quality digipaks including newly designed cover artwork.

To cut a long story short: Gamma Ray are celebrating their anniversary in style, and all their fans are invited!
When Gamma Ray took to the stage at the Hamburg Docks on 25 September 1993 to record the show for their scheduled live video "Lust For Live" (at that time available only on VHS cassette), the musicians Kai Hansen, Ralf Scheepers, Dirk Schlächter, Jan Rubach and Thomas Nack immediately enthralled their fans with their furioso performance. The Docks saw them unleash the primeval energy which had built up during the lavish studio production of their third studio album "Insanity And Genius". The opener ´Tribute To The Past` immediately proved why Gamma Ray's shows have been considered a Mecca for metal fans worldwide since the group was launched in spring 1989: as powerful and haunting as the band may sound on their studio albums – live on stage, Gamma Ray have always surpassed their studio performances.
Naturally, for Gamma Ray the Hamburg show in September 1993 was special in every respect. Not only because it took place in the group's home city but also because the band presented their new line-up to their fans for the first time. On top of all that, the set list that night was impressive: along with brand-new numbers such as ´Tribute To The Past`, ´Insanity And Genius` ´Last Before The Storm` and their back then current single release ´Future Madhouse`, Hansen, Scheepers, Schlächter and new additions Rubach and Nack also delivered a breathtaking Helloween medley featuring the songs ´I Want Out`, ´Future World` and ´Ride The Sky`. In addition, Kai Hansen performed ´Heal Me` as a vocal duet with Ralf Scheepers, already hinting at the personnel change which was to follow a few months later.
What nobody anticipated that night at the Docks: this was to be the band's last official recording featuring Scheepers. A few months later, Gamma Ray parted ways with their frontman from the south of Germany, Hansen doubling as vocalist ever since and the show at the Docks being the first time since his 1985 Helloween debut album "Walls Of Jericho" that he simultaneously played the guitar and sang lead vocals in a band.
"Looking back more than 20 years, you can't help but smile," Hansen confesses. "We were like things possessed, playing almost every song either too fast or too hard, some of them both. We sounded like some kind of metal tornado. There was pure euphoria among the band members at that time."
The 2016 anniversary re-release of "Lust For Live" was mastered by producer/sound engineer Eike Freese (Dark Age, Deep Purple) and will be available on CD for the first time.