Full Metal Cruise Report @ ZDF.kultur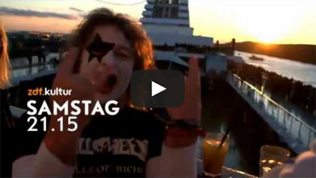 Full Metal Cruise 2013: A week of heavy metals to water and land: Concerts and everything the Metal Heart else wants. Nina Sonnenberg and Rainer Maria Jilg were on board the Metal cruise.

" On May 5, it was called "cast off" for the Full Metal Cruise, the biggest heavy metal cruise in Europe. It started and ended in Hamburg and landed in between in Southampton, Le Havre and Amsterdam. On board were metals variables such as Kreator, Heaven Shall Burn, In Extremo or Doro. Nina Sonnenberg and Rainer Maria Jilg went for ZDFkultur on board to share with bands and fans and to experience something different this Cruise. "
June 08th, 2013 21: 15h (CET) - ZDF culture (Link: HTTPS://kultur.zdf.de/ ) June 08th, 2013 01: 10h (CET) - ZDF culture (link: HTTPS: // culture .zdf.de / ) Sadly though there's no excerp of Gamma Rays but shows However it might give you a good impression the cruise. We'll post links to the stream if there will be one available on Latzer.




German infoText from the "Full Metal Cruise" site: "The 75-minute documentary that will air on 08.06.2013 at 21:15 clock, in addition to the indispensable report around the ship also shows various concert clips from the Full Metal Cruise. In addition to the ship -Shows of bands like Sabaton, In Extremo and Heaven Shall Burn doing the same intensity acclaimed country concerts are Saxon, Sepultura and Avantasia presented by ZDF.Kultur. And of course the brilliant finale of the Full Metal Cruise, should the loud entrance at 824 . Hafengeburtstag in Hamburg , not missing. A perfect round envelope so that just serves not only as a memory jogger for all participants, but will also appeal to interested non-riders and members. "



Trailer for the documentary:
[Hmyt width = "560" height = "315"] HTTPS://youtu.be/Zpbd6Y8PCQE [/ hmyt]