Official Gamma Ray Website
"Master Of Confusion" Released, March 15th 2013
This text will be replaced
'Master Of Confusion' and 'Empire Of The Undead' are the first two new studio songs by Gamma Ray to be released after the successful studio album "To The Metal!" which brought Gamma Ray at the highest positions in the charts worldwide.
"We have been away for quite some time", declared guitarist and founding member Kai Hansen. "We have released what we consider a very beautiful live product, 'Live – Skeletons and Majesties', but we felt it was time to release some new music by the Rayz… Yes, we planned to have an album ready by now but deadlines are not our best friends. No, seriously, although we have already started working on the new album, we did not want to wait any longer and thought we should let the fans listen to these two new songs before the world tour with Helloween. We have also recorded cover versions of two songs we have always loved and… before anybody could say that a CD can feature more minutes of music… we are also releasing the live material recorded for the 'Skeletons' Blu-ray that could not be included on the live CD. OK, it's not a new album. But it's 60 minutes of music… call it the longest single in metal, if you like!"
With its 60 minutes of pure and raw Gamma Ray, "Master Of Confusion" is a great way to wait for the new album, scheduled for the end of 2013. Coinciding with the start of the "Hellish Rock, Part II" tour, "Master of Confusion" will be released on March 15th, 2013 via earMUSIC.
Gamma Ray always takes its music and the relationship with their fans very seriously, and the band wanted this release to be priced as a mid price mini-album.
Gamma Ray's "Hammer Studios" totally destroyed by a huge fire
As already written on facebook which today for sure is the quickest way to post and share happenings we finally want to catch up here as well with a very very sad and shocking news.
November 18th, 2013 became a very dark chapter not only for Gamma Ray but for the music and metal scene of Hamburg as well. The well know "Hammer Studios" ran by Dirk Schlächter, Kai Hansen of Gamma Ray and their friend Eike O. Freese (Dark Age) have totally been destroyed by a huge fire.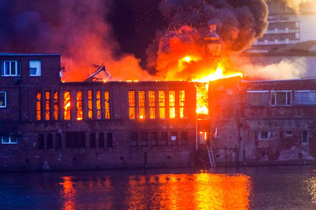 Official press release:
"It is a dark time for the music scene in Hamburg, Germany: On Monday, November 18th 2013, the legendary Hamburg-based 'Hammer Studios', ran by Kai Hansen & Dirk Schlächter of Gamma Ray and Eike Freese (Dark Age), burnt down in a mass fire.
Gamma Ray to enter studio tomorrow!
After a successful tour across Europe and Asia it is time now to finish what had been started with "Master Of Confusion"-EP beginning of this year: the band will enter their studio tomorrow looking through and carrying together new material for the new album "Empire Of The Undead" which is supposed to be completed right before the band heads out for the south-american leg of the Hellish Rock II-Tour.
Stay tuned, we keep you up to date regularly here.